ENTRIES ARE DUE BY THUR OCT 27, 2022 AT 8:15am – 8:45am
It is never too early to start planning for Reflections. Let your creative talent and imagination soar!!
This year's amazing theme is "Show Your Voice" and we cannot wait to see what our amazing students will do for art, and for our world!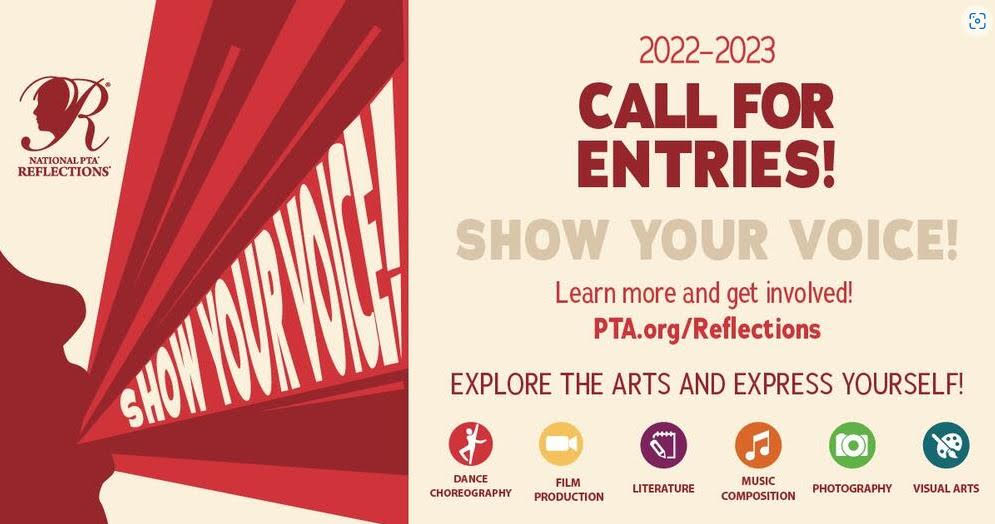 Get your art ready, the time is here for Level Creek Reflections!
The Reflections art competition is a fun and challenging competition for all students, grades kindergarten through 5th grade, hosted every year by the Level Creek PTA.
Each year has a specific theme—this year, the theme is "Show Your Voice!"
LCES PTA is excited to accept entries in every category!
Entries are judged based on creativity, artistic merit, and interpretation of the theme. For rules and entry forms, please visit https://levelcreekpta.org/programs/reflections.
Entries will be collected on Thursday, October 27, 2022 at the school from 8:15 – 8:45 AM.
Each entry must have a completed entry form, and all entries MUST be submitted in person AND digitally to Reflections.LevelCreek@gmail.com by the due date.
Want to volunteer to help? Have questions? Please visit the Level Creek PTA Facebook page or email Reflections.LevelCreek@gmail.com
ENTRIES ARE DUE BY THUR OCT 27, 2022 AT 8:15am – 8:45am
CONTACT US
REFLECTIONS
Please ask get in touch with us and help get the word out to start that art!
We are also looking for adult volunteers to help judge entries. If you, or someone you know, are experienced in visual arts, photography, or literature, we'd love to have you!
CONTACT US